Airchucks
Webtek UK supply a comprehensive range of airchucks to suit various core sizes.
152.4 / 6" airchucks are normally available ex-stock or on a quick delivery.
We can supply single gripping tyre / bladder type chucks for low to medium tension applications or multiple strip chucks for higher tension applications.
We also supply leaf type airchucks for applications where thin wall cores are used.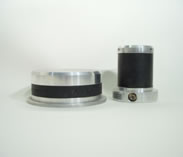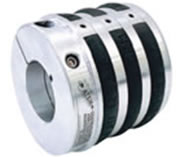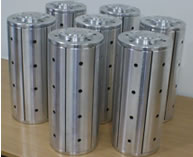 Pneumatic mechanical chucks
Pneumatic mechanical chucks can be manufactured to suit core sizes from 65mm up to 305mm.
The method of operation is simple and very effective.
When air is applied to the chuck a pressure chamber fills which once filled pushes a piston forward. When the piston travels forward tapered keys are forced up an inclined hardened taper. The gripping elements are attached to the keys.
The Pneumatic mechanical chuck is suitable for braked and driven applications in unwind or rewind positions.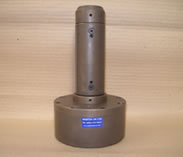 Torque reactive chucks
Heavy duty, torque reactive shaftless unwind chucks can be supplied as a single core size, fixed dual position stepped core sizes or with a fixed base and removable chuck head where space is limited and multiple core sizes are used.
The chucks are actuated when rotation of the reel occurs and expansion is by-directional. Chucks can be manufactured to suit 70mm up to 305mm id cores.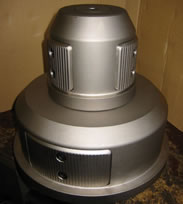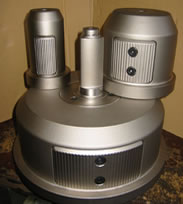 Differential rewind shafts
We can supply differential rewind shafts either for new machine applications or for retrofit to replace existing differential shafts.
Differential rewind shafts to suit standard 3" and 6" id cores are available with other sizes on request.
The differential rewind shafts utilise a base steel shaft where a friction surface is located. The individual gripping chucks are mounted onto this base shaft.
Air is applied through a rotary union in the end of the shaft and is fed into the full width friction strip.
The air pressure is adjusted either manually or automatically by the machine tension control system.
The friction strip increases or decreases the force applied to the interior of the chucks which in turn increases or decreases the tension of the reel.
Each chuck has gripping segments which expand when the core is rotated but retract easily when the winding process has been completed to allow easy unloading.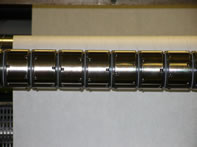 Air knife shafts
Webtek UK supply air knife shafts for slitting and rewinding applications.
Utilising an air knife shaft can considerably reduce the time required to set the bottom knives.
All air knife shafts are manufactured from either aluminium extrusion for standard sizes or precision machined solid or tubular aluminium for non standard sizes.
All air knife shafts utilise hard wearing nylon strips which grip the knives and stop contact with the base aluminium shaft.
As our knife shafts are manufactured from aluminium the weight is considerably lower than their steel equivalents therefore reducing manual handling issues where operators have to remove the knife shafts from the machine to re set the knife position.