IONstream Fusion is an Auto DC based static elimination / neutralising systems used for the neutralisation of static charges present on a substrates surface. High voltage is used to generate alternate positive and negative ions at a frequency rate of up to 100Hz.
IONstream Fusion incorporates our Auto DC technology. Auto DC is a development of our previous 100Hz Pulsed DC technology.
Auto DC describes IONstream Fusion's ability to automatically adjust polarity output without operator intervention in favour of the correct ions to achieve excellent static neutralisation.
The system senses the polarity charge of the target material and adjusts it's Pulse/Pause relationship accordingly.
A long pulse is generated of the correct ions to neutralise the material with a short same polarity pulse output. Up to a 90% / 10% output in favour of the correct neutralising ions can be achieved by Auto DC.
If the material polarity changes at any time the system goes back into Pulsed DC mode to determine, yet again, if Auto DC mode is required.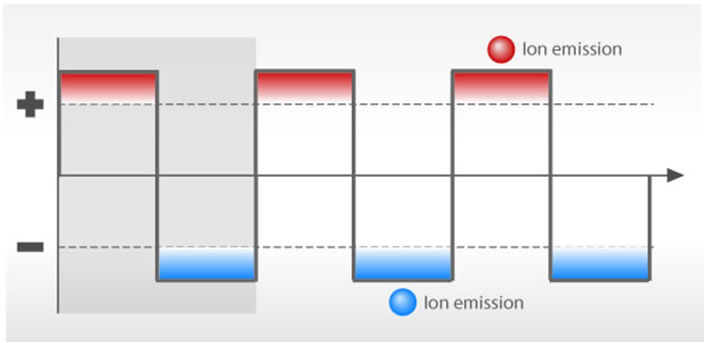 Hildebrand Technology Auto DC method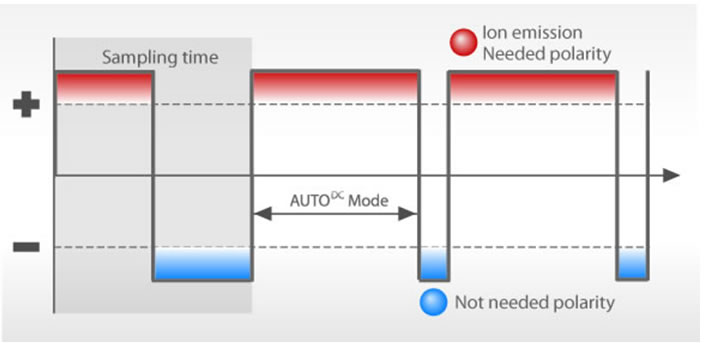 IONstream Fusion utilises our latest microprocessor control system and high voltage generating technology which are encapsulated within the static neutralising bar profile. Supply voltage is 24V DC therefore the system has no external high voltage generator or cables.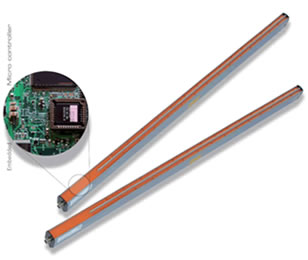 An IONstream Fusion static neutralising bar can be used on its own or as part of a larger system.
IONstream Fusion achieves excellent static charge neutralisation and can be used in a vast variety of web and sheet applications including machine turrets where the system, due to it's 24V DC supply voltage can be located inside the turret and controlled through 24V slip rings.
IONstream Fusion can be operated in either Auto DC mode or in True DC mode with an external IONsense field sensor where the bar and field sensor operate in a closed loop system controlling polarity and ionising output to achieve, if required, zero volts residual charge on the target material.
IONstream Fusion equipment summary
Latest generation of micro-processor controlled, earth-free high efficiency static neutralising system.
AUTODC Technology up to 100Hz
TRUEDC® with additional field sensor
24V DC power supply
All electronic components are integrated into neutralising bar profile
Micro-processor controlled; bar contamination and emitter pin status detection
LED on neutralising bar indicates operating status.
Green: Neutralising ok.
Flashing green / yellow: 40% Performance reduction, clean bar warning.
Yellow: 60% Performance reduction: clean bar now.
Red: Fault
Superb discharging efficiency for ionising ranges up to 1500mm
Network compatible, internal CAN open bus to communication
100% process control with "real-time" log book of system parameters
Optional CAN bus driven TQM static sensor to detect and protocol residual charge
Rigid glass fibre enforced epoxy profile, IP68
Shock proof according En 60335
The hazardous location version of iONstream Fusion is certified for use in a :   II 2G IIB T6 & II 2D IIIB T 85°C  atmosphere and is certified to the very latest EU directive 2014/34/EU.
Control & Monitoring
We offer 3 different control and monitoring solutions which can be used with IONstream Fusion: Industrial PC, Android App and industrial gateway.
IONmaster is our 10" industrial PC touch screen operator interface. The system shows a side view of the machine with individual neutraliser locations.
The location button shows the individual neutralising bar status colour.
The button colour corresponds to local LED colour
Neutralising system home page screen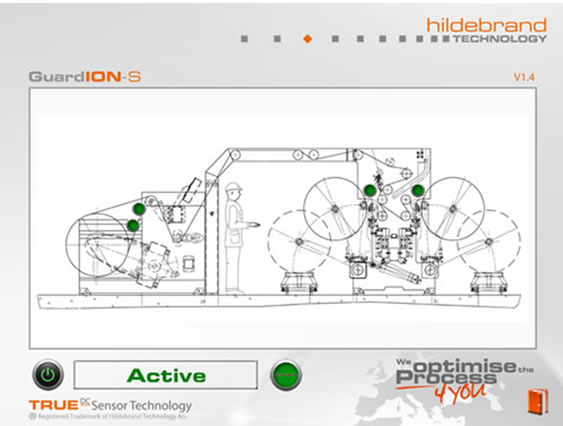 By selecting an individual bar within the screen the user is taken through to the status display area where key parameters are displayed. The system displays: Ionising Efficiency and Ionising current and also alarm status.
Ionising current is an indication of the system output polarity and level of output.
Ionising Efficiency is a display of neutralising bar output efficiency. As the neutralising bars become polluted from the atmosphere the Ion Efficiency displayed will reduce until it reaches a pre-selected level where the bar maintenance alarm will be activated.
System Failure alarm is displayed when there is a fault with the high voltage system
Conductive Pollution alarm is displayed when there is a short circuit between positive and negative pins when a bar is running in Pulsed DC mode.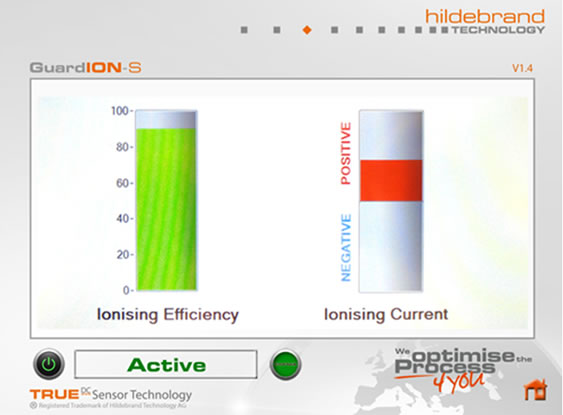 Up to 127 IONstream Fusion or IONcontrol Fusion static neutralising bars can be located on a
IONmaster system.
The system can be expanded with additional neutralising bars at any time.
When a new neutralising bar is added the system allocates it an address and then incorporates it into the system.
Typical multiple bar system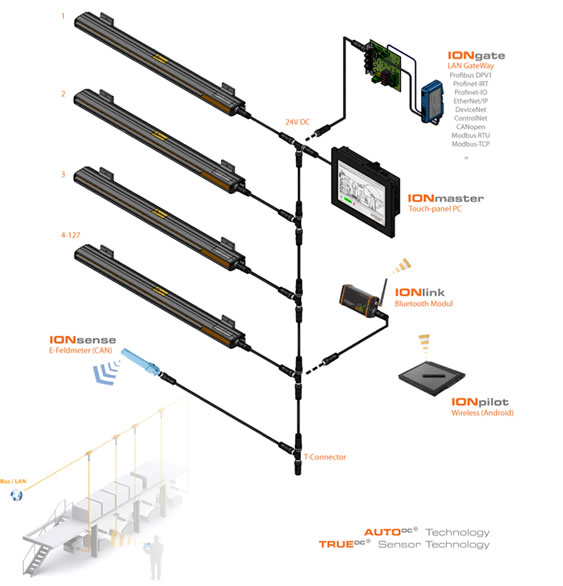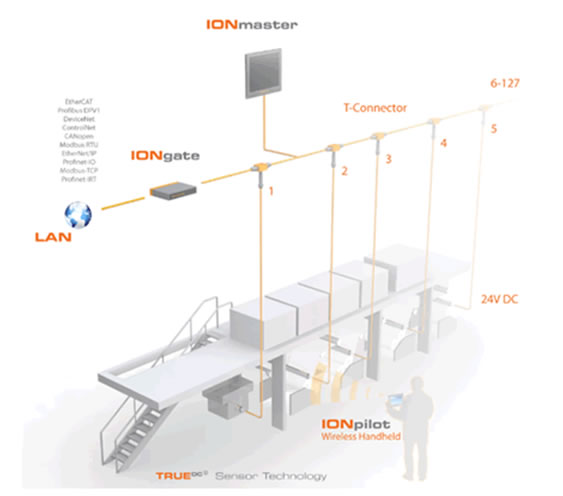 IONgate is our industrial network gateway system which allows machine builders or end users to locate IONstream Fusion static neutralising equipment within their own control and display system.
Our 'Anybus' gateway allows communication with many industrial protocol languages such as:
EtherCAT, Profibus DPV1, DeviceNet, ControlNet, CANopen, Modbus RTU, EtherNet/IP, Profinet-IO, Modbus-TCP, Profinet-IRT.
IONpilot app our Android based App which allows control and monitoring of IONstream Fusion neutralising bars and IONsense field sensors remotely via our long range industrial Bluetooth unit.
Static elimination / neutralising bars can be switched on and off and neutralising data accessed from a range of up to 100 metres.
Customers can either purchase the App and download it to their own tablet or smart phone or purchase the IONtablet 10" touch screen interface with steel anti theft housing and App pre-loaded at the factory.